We've updated our website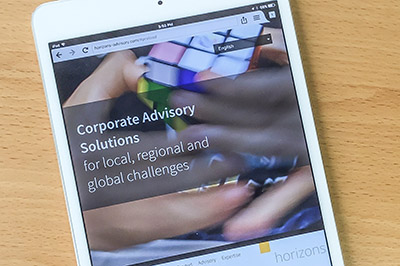 Recently we've made some changes to the Horizons website that we feel create a more informative user experience. Most noticeable is the multi-language versions of the site, easily accessed by a drop down menu on the home page.
In addition to English, the website site is now available in Arabic, Chinese, French, German, Italian and Russian. The core of the content has been originally translated for each language and does not rely on automated translation modules.
Along with the multi-language viewing capability of the site, in the Advisory section we've added multi-language versions our Corporate and Expertise brochures for easy download.
Other modifications include the shifting around of some items on in the navigation and the addition two new sections — Counsel and News.
A word about the Counsel section
Horizons is a unique corporate advisory with a network of worldwide legal professionals providing domestic and transnational services to our clients. Moving forward in 2016 we'll introduce you to some of the key Counsel advisors that help make up the global Horizons team, giving you a fuller picture of the international scope of the firm.
…and the News section
With the News section, we aim to offer you more of the goings on around Horizons along with the curating and sharing of important news and insights related to the corporate landscape and beyond.
What you'll also find on the website is a button to subscribe to the Horizons newsletter. The button is located both the News and Get Started sections of the scroll.
Where the News blog offers a mix of general information and insights, the subscription newsletter will be geared toward more topically in-depth issues in information for our subscribed followers.
So, have a look around the site, and bear with as we work out some of the kinks. If you have any questions or comments, please feel free to share them with us via email.